Be With Your Companion
at the End of Their Journey
Humane Pet Euthanasia Services
Be With Your Companion
at the End of Their Journey
Humane Pet Euthanasia Services
Providing a Gentle Means for Your Pet To Depart
Dog and cat gentle, caring in-home pet euthanasia in Charlotte and surrounding areas.
*North Carolina Service Only*
Pets less than 100 lb. $375
Pets 100-150 lb. $525
This includes our talk(s) on the phone, performing a physical exam, administering the sedation, and then the humane euthanasia, wrapping the deceased in a blanket, and transporting for cremation if desired (see Aftercare Options below), and a memorial pawprint when we take the deceased pet with us for Aftercare.
I do my best to be available when you need me, including weekends and holidays. If I am unavailable, please contact your local veterinarian or one of the following emergency clinics:
• Cabarrus Emergency Veterinary Clinic  1317 S Cannon Blvd., Kannapolis 704) 932-1182
• Animal Medical Hospital  3832 Monroe Rd.,  704) 334-4684
• Carolina Veterinary Specialists at 12117 Statesville Rd., Huntersville 704-949-1100; 4099 Campus Ridge Rd., Matthews (704) 815-3939 or 2225 Township Rd., Charlotte (704) 504-9608
• CARE 3726 Latrobe Dr., Charlotte 704-457-2300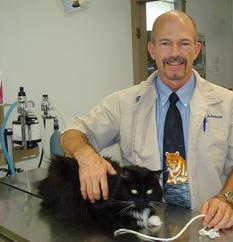 Dr. Dan Adamson With Duster, His cat
"I grew up in rural Ohio and received my Doctor of Veterinary Medicine degree from The Ohio State University. My wife, Cathy, and I have three grown children, two daughters and a son.
My 30+ years as a veterinarian have helped me learn that losing a beloved pet can be one of the most stressful times of your life. At-home euthanasia is the kindest final gift you can give to your faithful companion... ending their suffering and pain while surrounded by those who love them, in the comfort and serenity of their own home. It is my goal to help you and your family know you are not alone in making this emotional and difficult decision and to provide my professional guidance and skills."